GROWN TO BE WORN – SOLD OUT!
MYCELIUM CAPSULE COLLECTION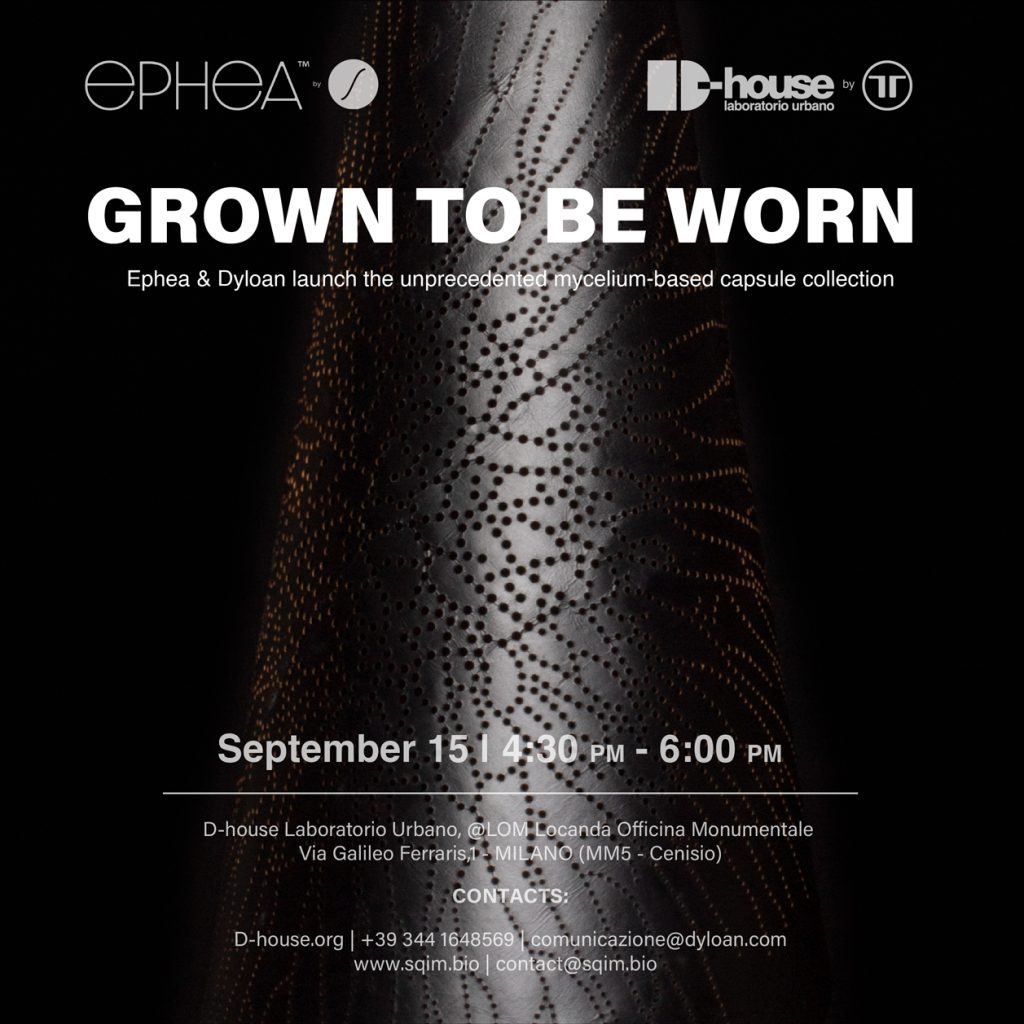 Ephea & DYLOAN // Co-design for fashion applications
On 15th September 2022, D-house will host a workshop focusing on the opportunities emerging when combining mycelium-based biofabrication processes with advanced manufacturing technologies for fashion.

Maurizio Montalti, co-founder of SQIM, will explain how the company co-designs with Nature to develop cutting edge technologies and deliver naturally-grown mycelium materials for different applications and markets, as for instance within the fashion industry.

The potential of mycelium-based bio-fabrication and a deep understanding of the biology behind it allow SQIM to manufacture unprecedented materials – Ephea – which have been appreciated for their premium haptics and already validated by the industry thanks to their embedded functionalities and overall high quality.

Loreto Di Rienzo, founder and technology ambassador of Dyloan, now part of Pattern Group, will explain how the company specializes in applying the most advanced software and technologies to manufacturing, to meet the needs of the constantly evolving fashion sector.

D-house laboratorio urbano, brings together technology, producers, users, and creative talents, in order to constantly evolve their range of technologies and applications, towards the creation of sustainable products.

The collaborative endeavour between SQIM and Dyloan, supported by the EU-funded ELIIT project, gave birth to a set of revolutionary outcomes, contributing to the creation of a more ethically and environmentally responsible fashion industry.

---
When: Thursday 15th Septmeber 2022 at 4:30pm – 6:00pm
Where: D-house – Via Galileo Ferraris 1, 20154 Milan, Italy
Language: Italian
It's only possible to participate in the workshop upon registration.
Fill in the form below and secure your seat at the event!
SOLD OUT!
---