SQIM at Future Fabrics Expo 2023
SEMINAR SERIES: BUILDING THE BIO-FABRICATED MATERIALS LANDSCAPE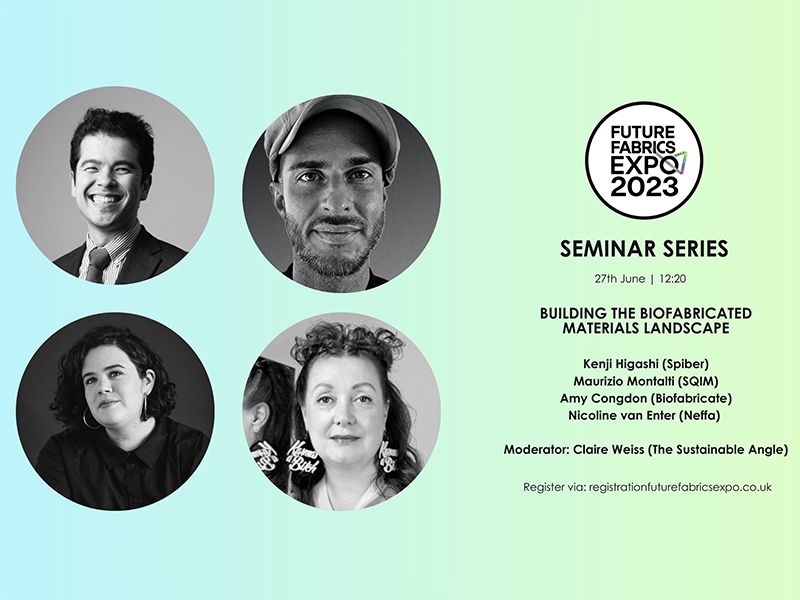 Join SQIM on 27th June at 12.20 AM for the seminar "BUILDING THE BIO-FABRICATED MATERIALS LANDSCAPE", taking place within the program of Future Fabrics Expo's Seminar Series, featuring all together approximately 20 panel discussions held by key thought leaders, experts, and change-makers.
The Seminar Series serves as a conduit to explore the most defining issues of our time, while deepening the exploration of solutions presented throughout Future Fabrics Expo.
Moderated by Claire Weiss of The Sustainable Angle, the seminar will feature SQIM's co-founder and Chief Mycelium Officer, Maurizio Montalti, in conversation with Kenji Higashi (Director at Spiber), Amy Congdon (Chief Design Officer of Biofabricate) and Nicoline van Enter (Co-Founder of New Fashion Factory aka NEFFA).
The fashion and textile industries are currently responsible for significant impacts upon the planet, its people and nature. However, fashion can and should be part of the solution, representing a powerful force for positive change, considering that materials are being responsible for the majority of a fashion product's environmental impact.

All together, The Future Fabrics Expo's Seminar Series aims to inspire and urge the public to take action by working with the solutions presented at FFE – many of which span the long and complex textile supply chain – in order to lower impacts on climate, biodiversity, soil and the oceans.
WHEN
27th May 2023 | 12.20 AM
WHERE
MAGAZINE LONDON
1 Ordnance Cres
SE10 0JH – London
United Kingdom
EPHEA™ AT FUTURE FABRICS EXPO 2023
At Future Fabrics Expo 2023 you'll be able to encounter throughout the entire event SQIM as CORE EXHIBITOR, presenting ephea™ – its advanced class of high-quality bio-fabricated materials made from pure mycelium.
Be part of the solution: DISCOVER, LEARN and CONNECT with global suppliers, exhibitors and experts. Reserve your Future Fabrics Expo 2023 ticket by clicking here below.